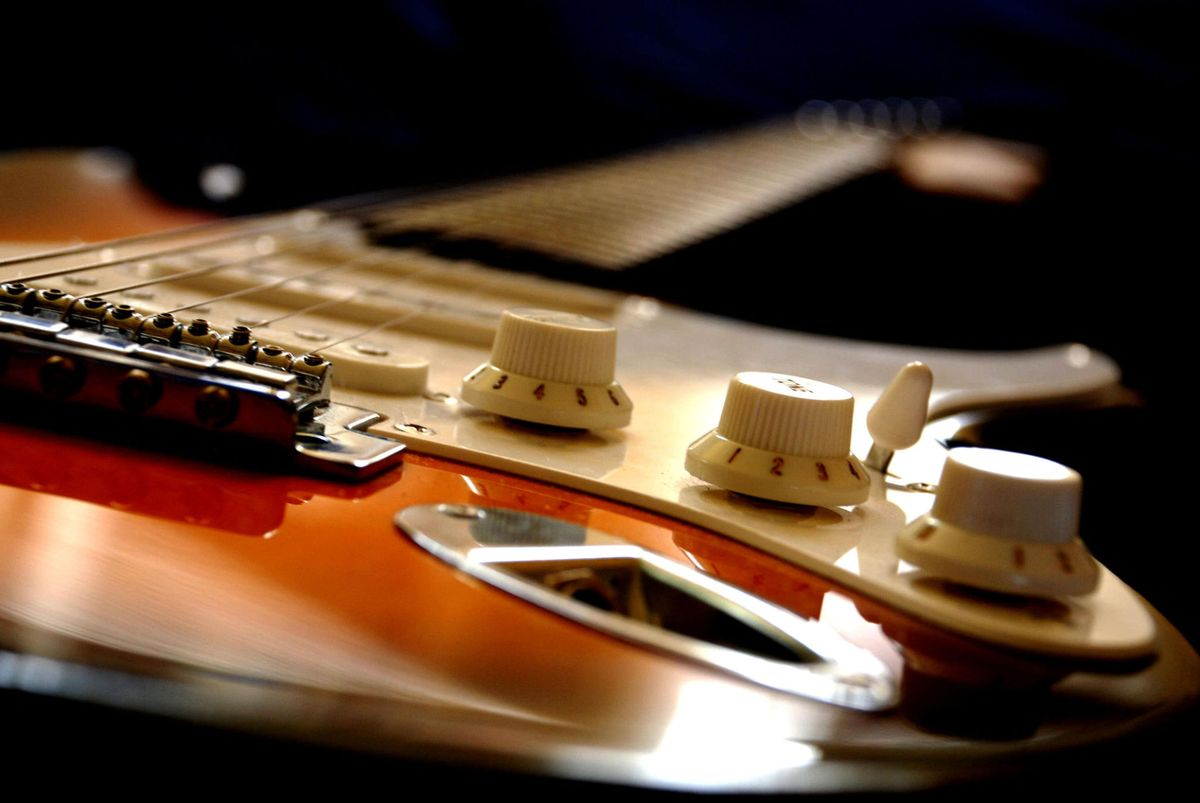 The Iconic Guitar Gear of Jeff Beck
Author Greg Prato shares a section of his book "Iconic Guitar Gear" highlighting the guitars, amps and pedals that fueled Jeff Beck's propulsive and innovative sound.
Scant few veteran rock guitarists have been able to keep their technical skill up to snuff and successfully traverse through musical trends coming and going over the course of several decades. Jeff Beck is certainly one of the lucky few to have pulled off this impressive feat – and in the process, explored blues/psychedelic pop (Yardbirds), helped create heavy metal (the Jeff Beck Group's Truth and Beck-Ola), and fused together jazz and rock (Blow by Blow and Wired). Here, Beck expert Wolf Marshall takes us on a guided tour through most of the makes and models of guitars, amps, and effects Jeff has played.

Fender Esquire, Fender Telecaster, Les Paul Standard, Fender Stratocaster, "Seymour Duncan" Les Paul, Jackson Soloist, Gretsch Duo Jet; Vox AC30, Marshall, Sound City, Fender Super Champ amps + effects

Jeff in the Yardbirds – the early Yardbirds, after he took over for Eric Clapton – he was seen with the Fender Esquire. Like, a vintage black guard type – that would have come out in the '50s. And it was a maple fingerboard – so that is consistent with '50s, in '59 and the '60s on, they made a lot of Telecasters with rosewood fingerboards. And they changed the pickguard to white – certain cosmetic things. I believe you can see that guitar on the cover of the American version of the album Having a Rave-Up with the Yardbirds – where they show them with their instruments on the cover. I believe he also had a Telecaster, and then he alternated between those two guitars. Esquires were still quite popular – their tone network was a little different than a single pickup guitar.

Vox amps – AC30's. Which was the standard thing in the mid-60s. I believe he used those amps all the way until he began experimenting with bigger stacks. And that would have been in the later '60s. And that's when I actually saw Jeff in person for the first time – in a group that he had with Rod Stewart as the frontman. I believe it was '68 and he was touring behind the album Truth – which is one of my favorite albums of all-time. But it's also the album on which he began to play the Les Paul guitar – the Les Paul Standard, seriously. Like, that was his main guitar. And that's when I saw him – it was a flame top Standard.

I have actual pictures – it was at a place called the Shrine Auditorium in Los Angeles. I had a photographer with me who took a bunch of color pictures of Jeff on stage. We were right in the front row. You can see his amps – they're big Marshall 100-watts. Big stacks. And he used obviously a wah-wah pedal – which probably in those days would have been a Vox wah-wah pedal. Later on, they made the CryBaby. But he used a Tonebender Fuzz Box, which actually, he started using fuzz boxes back in the Yardbirds. I believe he used one made by Sound City – the Sound City Tonebender. I believe Jimmy Page used that in the studio, as well.

And you hear different guitar tones on the Truth album – that are related in a way to the last period of the Yardbirds, where Jeff also did use with the Yardbirds a particular Les Paul. Not the one I saw him with. The one with a black pickguard. Those are the basic tones he used through the '60s. And then if you listen to the album, Beck-Ola – which was the follow-up to Truth – you hear that he is clearly using a Fender Stratocaster. That's directly from the influence from Jimi Hendrix – he actually said that in several interviews. Because people were considering Stratocasters back in the mid-60s – the Beatles used them for "Nowhere Man." So, it wasn't only like Gretsches, Rickenbackers, and Les Pauls – they were using Strats. They just tended not to think of them as a modern guitar, I guess – because of the Shadows. Ritchie Blackmore played a 335 at that time, and a lot of different things were going on.

But he also alternated a lot of Les Pauls – as well as the Strat. The famous Strat that has been stripped down to the wood – you can see when he's playing with the band on Rough and Ready. And there's TV performances of that – so you can actually see that guitar. And that's probably the Strat that he had on Beck-Ola, and he just kept playing it. I believe he played it with Beck, Bogert & Appice, and I think he played it into his early phase of fusion – when he started playing with people like Jan Hammer and doing Blow by Blow and that period. Also, at that point, he had a certain Les Paul that was put together by Seymour Duncan – which looked black, but it was actually a dark brown oxblood colored Les Paul [spotted on the cover of Blow by Blow]. It's a conversion from an early '50s model – it's not a Standard – but it has humbucker pickups I believe, and Seymour Duncan did those.

And then as you can see from Wired, he had a different Strat – a white Strat. So, I think he alternated between that stripped down one and the white Strat. And I know that white Strats always appealed to…maybe it's Hendrix, but Jeff is using one again now. When you view current videos of Jeff, you see him with a white Jeff Beck Strat. So, that Strat period probably goes back to 1969/'70. Plus, he sometimes used the Teles, as well – like if you look at the video for "People Get Ready," it shows him with a Tele. A converted Tele…but it's still a Tele. And I believe that was also a Seymour Duncan thing – he had one model that had a humbucker in it. So, those are the three "streams" that he had.